CUSTOM ~ CREATIVE ~ CARING
CUSTOM
~ CREATIVE ~
CARING
Rockhaven Excellence
Rockhaven believes that the design and construction of a custom home should be centered on the client, that the entire process should be an enjoyable one, and that budgets and schedules are very important and should be met. As new home builders based in Georgetown and the surrounding areas, these are more than just words, and our pleased clients are testimony to our ability to make these beliefs a reality. You can click here to read what our clients have to say.
Rockhaven achieves these results by using our unique, patented Design Plus Program™. Developed by our Founder over 25 years of working in construction, and working with clients, the Design Plus Program™ is a roadmap to success when designing and building a custom home. It was developed to minimize surprises, and to maximize value. And it is available only at Rockhaven Homes. You can click here to read more about this unique program.
Rockhaven also has extensive, personal experience in construction and design.
Collectively, Albert and Jesse have been solving design-to-construction problems for over 60 years. They started working together on the Grin backyard family rink in the 90's, on a unique, re-usable, wood frame that withstood flying pucks and January thaws. They found that they worked well together, Jesse achieved his Architecture-Construction Engineering Technology diploma and Red Seal Carpentry Certificate, and they have been building quality, custom homes together for over 15 years. The Rockhaven team, with over 70 additional years of construction experience, allows Rockhaven to currently build 5-7 custom new homes in Georgetown and the surrounding areas each year.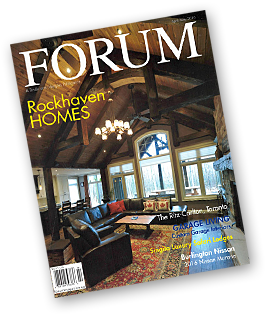 In The Media
See recent Rockhaven Homes coverage In The Media.

The emphasis and importance of global energy conservation has never been greater. Now, homeowners are increasingly looking for ways to save on energy bills and minimize their environmental impact. Custom home designs present an unparalleled opportunity to weave in...
read more
Rockhaven builds more than homes. It also builds trust, one home at a time. Ask around, read the reference letters, and then ask yourself, who do you want to design and build your custom home? Give Rockhaven a call today, and enjoy the experience of building your custom home, on budget, and on time.