Rockhaven Designs Custom Homes
When you look at the Rockhaven Gallery, you will see there is no "Rockhaven style".  Each home, like each client, is unique.  Nevertheless, our goal is always the same: to design a client's dream home, while minimizing surprises and maximizing value.
To achieve this, Rockhaven employs what we call our "Design Plus Program™" – a simple and unique process to design custom homes. In a nutshell,  our clients work with one dedicated contact to integrate their ideas with those of excellent and qualified designers, engineers, and vendors, while incorporating Rockhaven's extensive experience and knowledge of current building costs, materials, schedules, construction procedures, and design.  Read more about our Design Plus Program™.
When a new home is designed and priced, there are numerous features and finishes to consider and to choose from.  We have included below the starting Standard Quality Features of a Rockhaven Home, as well as some of the Additional (Optional) Features that are available.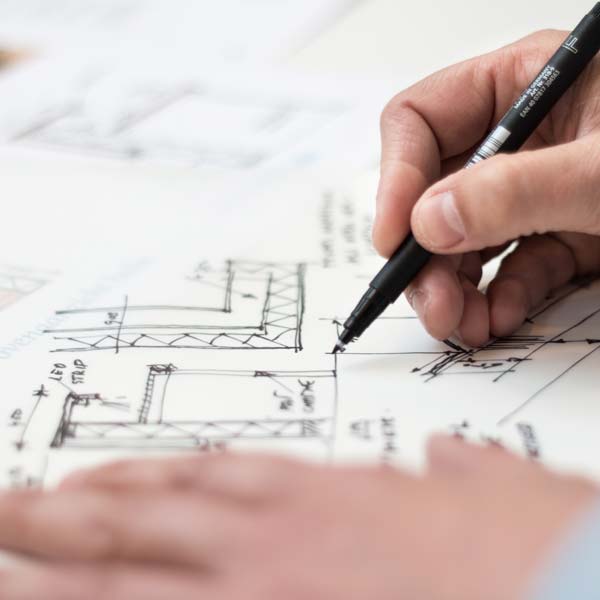 Quality Standard Features
At Rockhaven Homes our goal is to build your new home as solid as a Rock, a true Haven for your family. Rockhaven standards are higher, and all these features exceed or meet the Ontario Building Code. All the quality features listed below are chosen to meet this goal, and are included in what we call a "Quality Standard" Rockhaven home.
As of 2018, these include:
1.
It all starts with a solid foundation
Basement walls 9 inches thick, 20 MPa concrete
2.
Stable, high-performance, low-deflection floors
Engineered floor joists, glued and nailed
3.
Strong, well-insulated exterior walls
Two-by-six, R-24 exterior framing, c/w codeboard
4.
Taller walls, with more expansive living space
Main floor wall height of 9'
5.
Large, open-concept layout
Engineered, clear-span trusses
6.
Steeper, taller, more appealing rooflines
Roof pitch of 8/12
7.
Long-lasting, attractive, textured roof shingles
Life-time warranty, architectural shingles
8.
Welcoming, protected front entrance, c/w useful space below
Covered front porch, c/w cold storage below
9.
Warm, dent-resistant, rust-proof exterior doors
Exterior doors are fiberglass construction
10.
Energy Star windows, available in 4 styles (casement, etc.)
Vinyl, low-e, argon-filled, energy-efficient windows
11.
Large basement windows
4, poured-in-place, 47" x 23", basement windows
12.
A large, useful garage that easily fits 2 cars/trucks
Two-car garage, interior dimensions of 22' x 23'
13.
Quiet, secure, insulated garage overhead doors
Insulated garage doors, belt-drive openers, key-less entry
14.
Long-lasting, weather-proof, window and door openings
All openings sealed, clad, insulated, and caulked
15.
Low-maintenance, solid, clay masonry exterior
Clay brick, residential size with over 50 colour/style blends
16.
Durable, sloped, long-length stone sills
One-piece, natural stone sills, up to 8' in length
17.
Well-insulated, properly vented, trussed attic spaces
R-50, blown-in attic insulation
18.
Pleasing, low-profile, textured ceilings throughout
"California knock-down" finish on (most) ceilings
19.
Wide choice of quality flooring, customized for each client
Quality hardwood (engineered), ceramic and carpet flooring
20.
Attractive, tiled, showers and baths, both ensuite and main
Ceramic-tiled showers, with skirted deck tubs
21.
Strong, durable, long-lasting, wall-sheathing for ceramic tile
Cement board wall-sheathing installed in all shower areas
22.
Attractive, durable plumbing fixtures, with full warranty
Name-brand, quality plumbing fixtures
23.
Pleasing interior door choices, with textured, wood-grain appearance
Choice of 4 styles of textured/smooth, painted interior doors
24.
Natural, wood casing and baseboard throughout
Larger, more substantial wood trim with excellent finish
25.
Custom cabinet layout, design, and finishes for each home
Custom cabinet Allowance, c/w premium features
26.
Quiet, comfortable, high-efficiency, low-maintenance furnace
96% efficient, 2-stage gas furnace with V-S ECM motor
27.
Efficient, environmentally-friendly, air-conditioner
Seer-13, wall-mounted, A/C unit
28.
Fresh, outside air supplied via efficient heat-exchanger
Heat-Recovery Ventilation (HRV) unit, simplified
29.
Clean, attractive, and efficient, gas fireplace
Clear-view, gas fireplace, with tile/wood surround
30.
Practical, energy-saving control of home heating and cooling
Programmable thermostat, 5-and-2 day control
31.
Five convenient vacuum outlets throughout the house
Premium central vacuum, with ultra-pack accessories
32.
Complete choice in lighting fixtures throughout the house
Lighting fixture Allowance, incl. under cabinet lighting
33.
Well-planned, rough-in (only) basement washroom
3-piece, rough-in, drains and vents for washroom
34.
Extensive, established, third-party warranty protection
Tarion (Ontario New Home) Warranty Protection
All the features listed above meet and typically exceed Ontario Building Code standards. At Rockhaven, we build your home as solid as a Rock, a true custom Haven for your family for years to come.
Additional (Optional) Features
There are numerous additional features to consider when building your new home. Below we have listed a few of the more common features that people like to include. These are priced on an individual, custom basis.
Additional (Optional) features include, but are not limited to:
Cathedral ceiling(s)
Large garage (3-car or more)
Large covered concrete(or PT) porch
Ext. living space (covered), or Deck (uncovered)
Columns (add'l), railing, stairs
Columns, deck, railing, stairs upgrade
Dormers
Increased roof pitch (more than 8/12)
Main floor greater than 9'
Second floor greater than 8'
Exterior finishes (stone, pf wood, shakes, etc.)
Gables: in brick, or additional gables
Window upgrades (colour, shape, etc)
Front door feature/upgrade
Exterior door upgrades
Exterior trim features (frieze, shutters)
Shingle/shake upgrade
Interior columns, beams
Interior doors: french, solid, pocket
Taller/wider baseboard and trim
Coffered/tray/crown ceilings
Smooth ceilings throughout
Flooring upgrade (hdwd, slate, specialty)
Feature staircase (shape, finish, iron)
Finished basement staircase, c/w foyer
Larger or feature fireplace
Wood-burning fireplace (c/w chimney)
Cabinet upgrade (finish, height, Lndry, builtins)
Granite countertops (kitchen, ensuite, all)
Kitchen backsplash
Glass shower in ensuite/washrooms
Plumbing upgrade (whirlpool, fixture type)
Additional bathroom (c/w bath/shower)
Radiant heating (ensuite/washrooms)
Hot-water recirculation (for faucets)
Water treatment (softener, RO)
Additional potlights (int. and ext.)
Finished basement washroom (3-piece)
Finished portion of basement
Open concept (steel beams) in basement
Taller basement walls (8'-10")
Basement walkout
Garage to basement stairwell
Basement in-floor radiant heating
Framed, insulated, basement ext. walls
Garage finish (drywall, paint, trim)
Generator backup wiring layout
Geothermal heating
Smart Home Technology