The Rockhaven Design Plus Program™ is a simple and unique process to design and build your new home. It provides:
A thorough, detailed, all-inclusive, custom home planning program, designed to minimize surprises and maximize value.
Accurate budget pricing, throughout an organized 3-step process, including all 5 elements of project costing.
A complete set of working drawings, for both home and site, ready for submission to the local building department.
The Rockhaven process is simple in that you deal with only one person. Drawing on over 80 years of design and construction experience, Rockhaven works with you to integrate your ideas with those of excellent and qualified designers and engineers, while incorporating Rockhaven's knowledge of current building costs, materials, schedules, construction procedures, and design.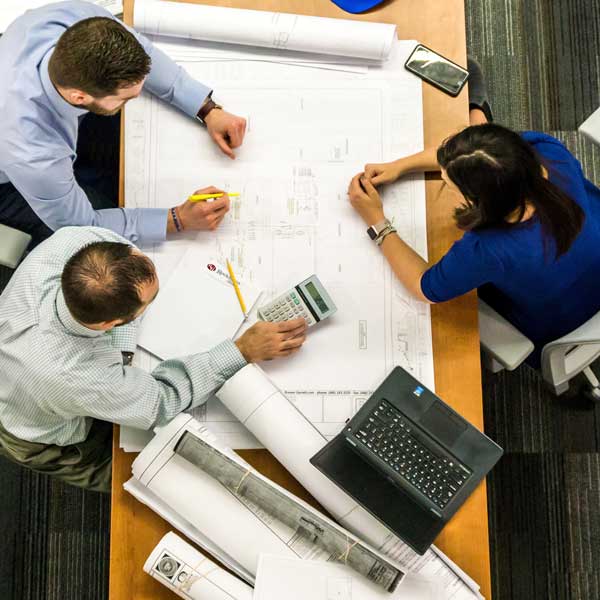 Rockhaven provides budget-pricing throughout the three distinct stages of the design process. This has two distinct advantages. One, it saves time. Secondly, and perhaps more importantly, it eliminates "sticker shock". Sticker shock is that all-too-typical frustration, cost, and associated time-delay when, armed with your finished drawings, you go for pricing and realize that what you have drawn is significantly more than what you have budgeted. Rockhaven design-pricing identifies and deals with those design and costing elements that unnecessarily exceed your budget, are structurally unrealistic, or have proven to be costly problems within our harsh climate. Synthesizing the entire design, structural, building, and mechanical requirements of your new home, a Rockhaven Design Plus Program™ is a realistic and holistic integration of all these elements, providing you with a complete set of drawings and specifications that bridges your dreams to your budget.
The Rockhaven Design Plus Program™ can also be used to complete your site and servicing work. Site and servicing design is often initially overlooked by our clients. This oversight can prove to be both costly and time-consuming. Integrating your dream home and your lot usually requires a soils engineer, an excavator, a septic engineer, a surveyor, a designer, a structural engineer, the local building department, as well as interaction with the various governing bodies that monitor conservation, access, safety and environmental issues. The Rockhaven Design Plus Program™ co-ordinator, involved from the beginning of your project, knows the challenges involved and the various requirements to ultimately realize your dream of a country or city home. We make the process manageable and coherent, emphasizing cost-effective solutions, and saving both time and money by exposing and exploring issues at the design stage where they are most easily dealt with.
The Rockhaven Design Plus Program™ is competitive and time-driven. We've done this often, we know the most suitable, cost-effective, and qualified designers and engineers to work with, and we have a reputation of getting homes built on time and on budget, without compromise to quality or safety.
The Rockhaven Design Plus Program™: a single-source, competitive, effective, and enjoyable process to help you realize your dream of a new home.